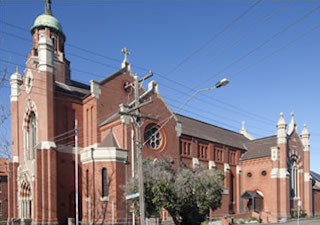 We acknowledge the Yalukit Willam Clan, the traditional owners and custodians of the land on which our parish stands. We pay our respects to them. May we walk gently here.
Welcome to the Parish of St Joseph's, Port Melbourne and Our Lady of Mount Carmel, Middle Park.
Our 2 bayside Churches are located just a few kilometres from the city of Melbourne and are served by the members of the Carmelite Order.
As you browse through this site, we hope that you will find what you need and if you are visiting this part of the world, please know that you are more than welcome.
We are one community which serves a range of people from Fishermen's Bend to the borders of the Parish of Elwood/St Kilda West. It is great part of the world in which to live.
If you have any questions, please don't hesitate to contact us at parish@sj-mc.org.au.
Again, you are most welcome.
2022 Children's Sacramental Program Forms
MASS TIMES
St Joseph's Church
cnr Rouse and Stoke Streets
Port Melbourne
Mon, Wed, Fri 9am
Sunday 9am
Children welcome at all Masses
MASS TIMES
Our Lady of Mt Carmel Church
Cnr Richardson & Wright Streets
Middle Park
Tue, Thu, Sat 9am
Saturday (Vigil) 5pm
Sunday 10.30am
Children welcome at all Masses
PARISH OFFICE OPENING TIMES
The Carmelite Parish Office is currently open each Monday, Wednesday and Friday between 9.00am and 4.00pm (except public holidays). The Parish Office is closed on Tuesdays and Thursdays. The Parish Office phone number is 9681 9600. If we can't answer at the time, please leave a message and we will get back to you as soon as possible. You can email any other enquiries to parish@sj-mc.org.au and once again, we will get back to you as soon as possible. The After Hours emergency number is 0408 754 283.